It's October and that means, you need to start planning that Halloween costume!
I'm the type of person that likes to base my costume off of pop culture.
So, we're put together some of the best costumes based on the most "happening" things of 2016! (You should probably start getting these early because some of them require you to do more than just buy the costume at the Halloween shop!)
Pokemon Go master
Pokemon is all the rage this year since the launch of PokemonGo. So dress up as your avatar and rep either Instinct, Valor or Mystic. Don't forget your backpack!
2. Pikachu…. or any Pokemon for that matter
Right along with the first option, you can either go dressed as one of your favorite Pokemon or team up with a buddy who goes as the Pokemon Go master.
3. Harley Quinn
This will NO DOUBT be the hottest costume for girls this Halloween! Have fun with it, get a little crazy and talk about puddin. Just remember, if you want to nail it you need a "Daddy's Lil Monster" t-shirt, bubble gum and the blue and pink hair! AND don't forget your baseball bat!
4. The Joker or the whole Suicide Squad
Right along with that you can also dress up as the Joker or anyone from Suicide Squad, especially if you have a huge squad. For the Joker you'll need green hair, a purple parka and a fabulous grill.
5. Ghostbusters
The movie may have flopped in theaters but it was still huge in pop culture. So grab your gal pals and strap on those ghost huntin' costumes. You can even make one of your guy friends be the ghost! BOO!
6. Harry Potter + squad
There was SO much hype around J.K Rowling's final Harry Potter installment that it is perfectly relevant to go dressed as Harry, Hermione, Ron, Draco or their children, Albus Potter or Scorpious Malfoy. Heck, you can even dress up as Voldemort's child!
7. Mr. Robot
Mr. Robot is one of the hottest shows on TV right. To dress up as Elliot, put on black jeans, a black hoodie and a lot of makeup to make your look tired. Or pair your F Society mask with a blazer and bowtie. Print the mask RIGHT HERE!
You can also be Mr. Robot, Elliot's dad or Darlene, whose signature look is the heart-shaped shades.
8. Grease 
What once was old is now new again. After the highly successful Grease LIVE musical, you can literally rock your Danny Zuko, Sandy and Pink Ladies outfits like its 1978!
9. Star Wars
Literally, Star Wars never gets old especially with Rogue One hitting theaters soon. You've got a ton of characters to choose from so what are you waiting for?
10. Olympics Team USA
Fresh off the Olympics, you can become part of TEAM USA! Hey, maybe you'll even get a kiss from Zac Efron?
Be sure to use a lot of red and glitter when doing your makeup!
And if your are looking for a group costume, you can always become the Final 5! Talk about #SquadGoals
11. Blake Shelton & Gwen Stefani
Dressing up with your boo? You should be Hollywood's newest power couple! Rock some denim jeans, plaid and a cowboy hat to transform into Blake and all you need is a platinum blonde wig and red lipstick to be Gwen! Viola!
12. Donald Trump and/or Hillary Clinton
Partner up with a friend to dress up as the presidential candidates Trump and Clinton.
For Trump, you'll need a suit, a red or blue tie, orange concealer and a really bad strawberry blonde taupe.
For Hillary, I'd opt for a red pant suit and a semi-bad wig.
13. Taylor, Kanye, Kim
Honestly, if you are feeling REALLY basic, you could just wear a t-shirt with either #TeamTaylor/#TeamKanye/#TeamKim
14. Prince
For starters, you'll need a lot of PURPLE. Throw on purple pants, a white lace shirt and a purple cape. Bonus if you can find a purple guitar.
15. Beyonce's Lemonade Outfits
Bey really gave the Beyhive a lot of Halloween ideas with her "Lemonade" movie. You can also wear anything from her "Ivy Park" collection!
Outfit one:
Outfit two:
Outfit 3:
16. Loki
Since Taylor Swift broke up with Calvin Harris and began dating Tom Hiddleston, Loki is probably a great person to dress up as this Halloween.
17. Cubs
The Cubs have had a good season and if you're in Chicago, it only makes sense to dress up like your favorite players. Heck, especially if you're going out in Wrigley! Throw in the shirt Jake is wearing and you're GOLDEN!
18. MILF $$
Can't believe I'd ever say pop culture wants you to dress up like a MILF but thanks to Fergie's new video, it is all the rage.
19. Deadpool
Ryan Reynolds. Deadpool. Need I say more? Be THAT superhero!
20. Hotline Bling
Drake had it all in the video – the moves and the turtleneck sweaters. Go head, get your Drake on! You can also throw on that puffy orange jacket if you are really trying to get into character!
21. Fuller House
Ask your mom if she's kept any of her cool 80s outfits. Then, dress up like Kimmy Gibbler from Fuller House! (If your mom doesn't have anything you can use, I'm sure you can find a ton of things at the Thrift Store!)
22.  Finding Dory
What were we talking about? Oh yah – dress up like everyone's forgetful fish Dory! Buy the costume HERE!
23. Pregnant Blac Chyna
Nothing like dressing as the newest Kardashian, Rob's new pregnant bae Blac Chyna!
24. Dwyane Wade
Wade joins the Bulls this season so throw on your Wade jersey and pretend your the newest player!
25. Chewbacca Mom
Pretty self explanatory… if you want your costume to be Star Wars inspired, but don't want to put the whole thing together, just rock the Chewbacca mask!
26. Wonderwoman
27. Ferris Bueller
Taking a day off for Halloween? Do it as Ferris Bueller. The film celebrated its 30th anniversary this year.
28. Panda
I got broads in Atalanta. The song might not actually be about panda's but really…. you should dress up as one anyways!
29. Gilmore Girls
"Where you lead, I will follow." Grab your best friend or your mom and dress up as Lorelai and Rory Gilmore this year in anticipation of the Netflix revival!
You will need this cup to hold at ALL times:
Rory should be dressed in her high school outfit:
And try your best to nail Lorelai's style:
You can even add Luke in there if you have a guy friend – just throw on plaid, jeans and a baseball cap!
30. Ryan Lochte
Lying, vandalizing, and winning Olympic medals. If that's you, you need to strap on your Team USA suit and dye your hair icy blue!
31. Eleven from Stranger Things
Don't forget the bloody nose and the Eggo box!
32. A Snapchat filter
You could go with the popular dog filter or the crown filter – either the golden butterflies paired with a gold makeup or the flower crown!
What color is it? Black and Blue? White and gold?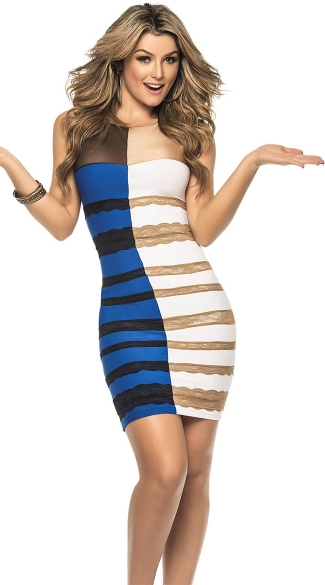 34. Ken Bone
Yandy is calling it the "sexy undecided voter" but know it is the debate's real winner, Ken Bone. If you don't want to spend $100 bucks on it, you can easily make the costume yourself. Black pants, red sweater, a mustache and a mic. Done, deal.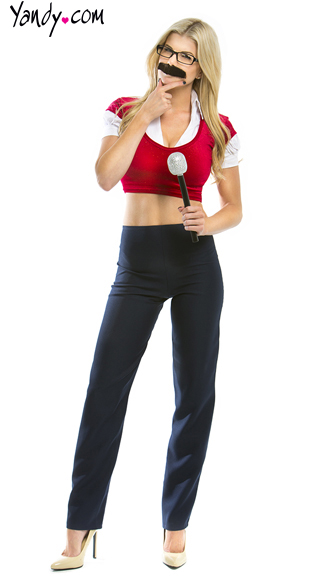 35. Willy Wonka
Gene Wilder passed this year and he was the iconic, the original Willy Wonka. Really, I could not think of a better man then the guy who had the keys to the whole chocolate factory!